WELCOME TO THE HOTEL IZÁN TRUJILLO
Hotel Izán Trujillo is located in the old Convent of San Antonio dating back to the end of the 16th century. The Baroque style building, carefully and fully restored, maintains its original architecture in all its splendor. It is located in the historical center of Trujillo, very close to the major places within this monumental city.
*Not included in the price of the room

*Not included in the price of the room


Room for meetings and celebrations*






Electric vehicle charging*
Tesla electric vehicle charging*

* Not included in the price of the room

* Not included in the price of the room
Laundry room*
Safe*
Telephone*
TV
Crib*
Hair dryer
Minibar*
Air conditioning
Wifi
Toiletries Kit
Connector modem*
Double Room + free Wi-Fi
You will enjoy staying in a historic building, an old St. Anthony convent from the 16th century, with its comfortable rooms that have been completely revamped and decorated with a modern and avant-garde style. For your comfort, you will be able to choose between two single beds or a double bed. Equipped with air conditioning, satellite TV, a minibar, a safe, a telephone, Internet connection and free Wi-Fi.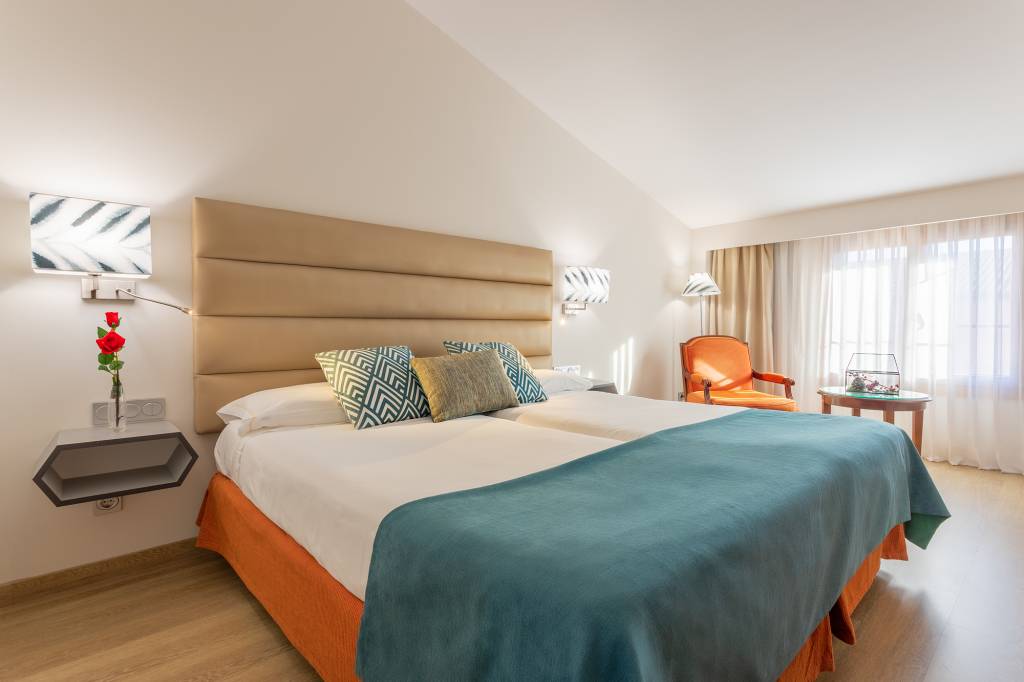 Double Superior room + free Wi-Fi
With an entrance from the old baroque-classicist cloister, they treasure all the magic from over four centuries of history. Spacious rooms with two single beds or one double bed, they are equipped with air conditioning, satellite TV, a minibar, a safe, a telephone, Internet connection and free WiFi. With room to fit an extra bed or crib upon request.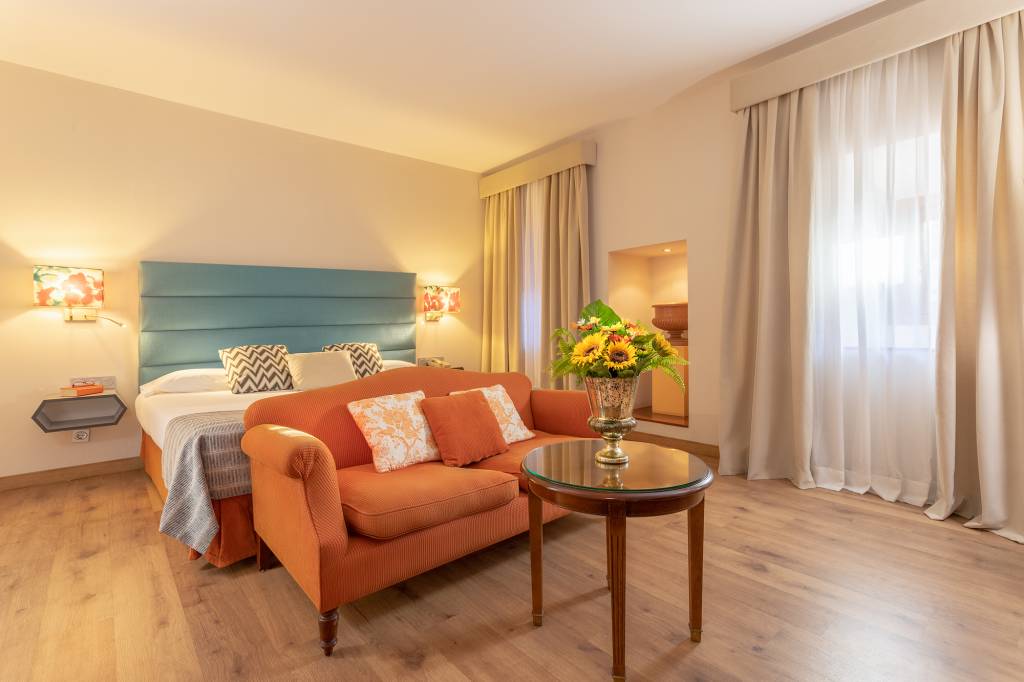 Junior Suite Duplex Room + free Wi-Fi
Spread out on two floors, with the living room located on the bottom floor and the bedroom with a slanted ceiling on the top floor to enjoy a unique and exclusive atmosphere. With direct access from the cloister where you will be able to admire the beauty of its architectural lines. Equipped with air conditioning, satellite TV, a minibar, a safe, a telephone, Internet connection and free Wi-Fi.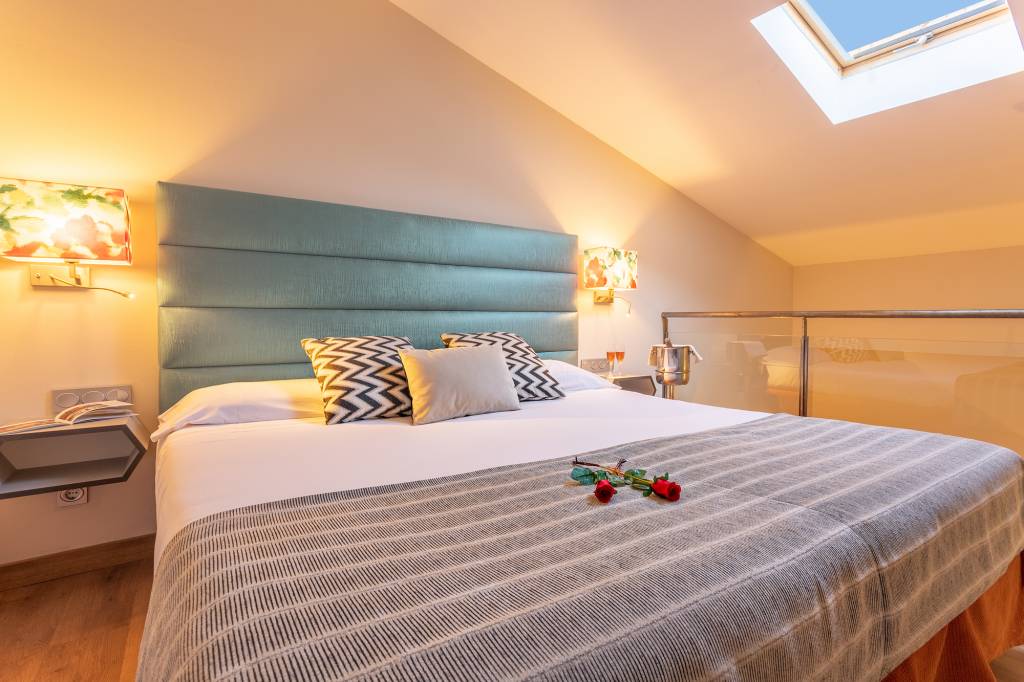 Double Room for one person + free Wi-Fi
Staying in a unique building and right in the historic centre of Trujillo, you will be able to enjoy a warm stay in our bright double rooms for one person. The convenience of being so close to the main tourist spots will invite you to take a stroll through this city that is full of monuments. Perfectly air-conditioned, they have a satellite TV, a minibar, a safe, a telephone, Internet connection and free Wi-Fi.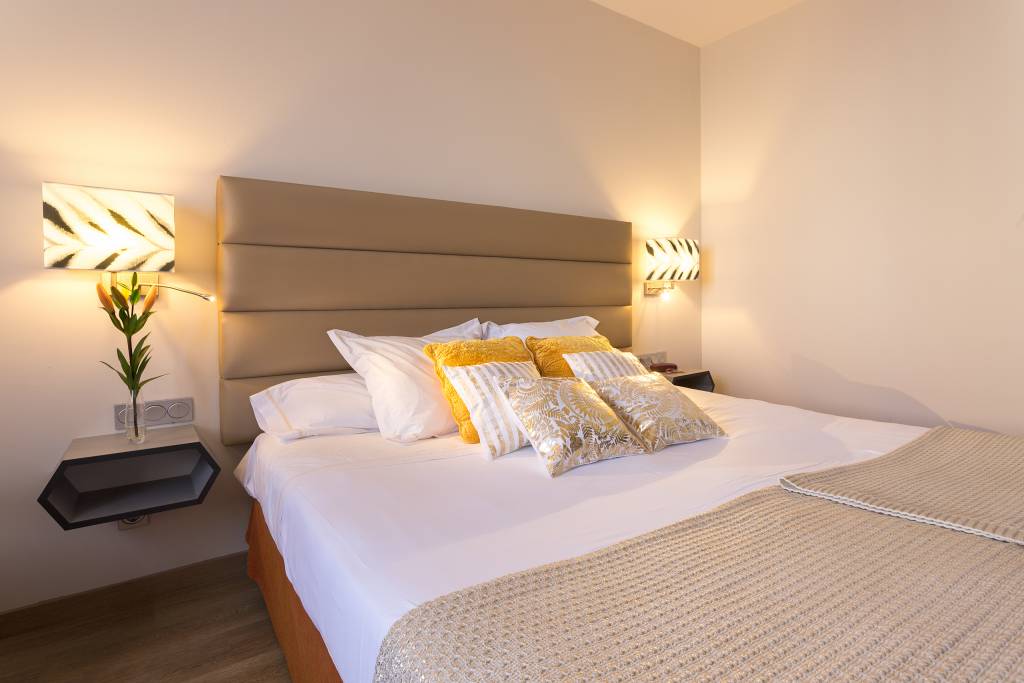 Offers

Hotel Izán Trujillo: People Over 55 PROMOTION
For young spirits who are 55 years old or more, this offer is specially designed so that you can enjoy our facilities and services with the best price/quality ratio in the unique setting of one of the most beautiful villages in Spain. We are offering you TWO NIGHTS (except from 1 night in summer) of accommodation in one of our comfortable standard double rooms with a breakfast buffet. Make your reservation and enjoy this unforgettable experience!
Limited PROMOTION
154,80€
Catering

In the warmth of our El Refectorio restaurant, you will be able to taste a carefully selected menu that includes traditional specialties from the area. We wish to emphasise the top quality of our products from Extremadura that are used, allowing us to prepare and present you with delicious dishes. Also, the menu includes other dishes with more modern and international touches.
In the incomparable setting of the old and historic cloister of what was the Convent of San Antonio from the 16th century, you will enjoy trying some of the traditional Extremaduran tapas along with other exquisite portions and an excellent selection of Iberian cheeses and sausages, highlighting with STAMP OF APPELLATION OF ORIGIN the famous Torta cheese from Casar and Ibores.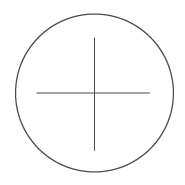 With our specialised team and a personalised consulting service, we offer you weddings à la carte so that your day is a unique and exclusive experience. The couple themselves will be able to select all the details from thousands of options and organise a luxurious wedding of your dreams. Our cosy cloister is the perfect setting for celebrating your wedding reception. The large dome in the St. Anthony hall is worth mentioning. It is a perfect area to hold civil ceremonies with your own personal touch. Our restaurant, El Refectorio, will take care of preparing a tasting for you with a carefully selected menu of traditional dishes from the area. We take care of everything down to the last detail, helping with the floral decoration, photographer, car rental, etc. Our team also make rooms available for your wedding guests at a special rate.
Its four air-conditioned rooms are ideal for organising conferences, seminars, meetings or business dinners. We have a conference room and three meeting rooms and can hold up to 365 people. They have air conditioning/heat and include all the latest technological resources (wireless system, LCD-projector, overhead transparencies projector, video system, TV, PA system including clip-on and handheld microphone). The San Antonio Hall is the largest one with its large domed ceiling. The space belongs to the old convent church and has piped music. The Choir Hall was once the choir of the convent's church. The Pizarro Hall is what was the once convent chapter house. The Orellana Hall, currently a TV room, was previously the convent's former dining room. The versatility of the cloister offers you several options to set up your events according to your needs.
The artistic heritage which exists around the city through the various civil and religious monuments dating from the thirteenth to the sixteenth centuries and the protected character of the Muslim art which permeates the whole city means that the city has been classified as a site of cultural interest, as well as being known for being a natural movie set and the best bird watching area in Extremadura. Its gastronomy is based on local cuisine with traditional dishes and Iberian products form the land: its famous cheeses and Designation of Origin wines.
Declared a UNESCO World Heritage Site and third site full of monuments Europe, it is worth a long visit. The walled enclosure in Cáceres contains the most important civil and religious architecture of the Spanish Renaissance, one-of-a-kind in the world thanks to its homogeneity, excellent condition and large number of monuments. Your visit will take you back to medieval times. The historical recreation of its medieval market in the old town stands out, considered to be the second most important in Spain.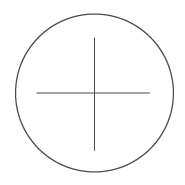 The Real Monasterio de Santa María de Guadalupe is declared a UNESCO World Heritage Site. A journey through seven centuries of history, from its origin where several styles coexist: Gothic, Mudejar, Renaissance, Baroque and Neoclassical.
A natural park declared a biosphere reserve by UNESCO, considered the only bird observatory in Europe with special ornithological protection. Open all year with free admission. It is the largest and best-kept expanse of Mediterranean forests in the world.
Archaeological site declared a UNESCO World Heritage Site. A city to experience the Roman culture and the splendour of the empire through its: Roman Theatre, Roman Amphitheatre, Roman Circus, aqueduct, Temple of Diana, etc.
Take a stroll through the walled Historic Quarter which has been declared a Site of Cultural Interest. Visit its castle, the Puente Viejo, Palacio de los Duques de Alba, the cathedral, among other places. Its splendid homemade baked goods made at the Madre de Dios Convent stand out.
Bicycle rental
Rent one of our bikes and enjoy magnificent rides with special long, medium and short routes for all levels, discovering the corners of this legendary medieval city. You can bring your picnic.
TRUJILLO, Best bird watching area
One of the main destinations in Europe with special protection for birds, home to rare species in the urban area like large colonies of lesser kestrels and white storks. Observation points in the city are the castle, the main square, between the Silos, the bullring, etc.
TRUJILLO, the movie set
The protective location and good condition of its monuments have captured the interest of many producers who consider Trujillo to be the perfect natural setting for their films. You will be able to visit the locations where famous shoots have taken place.
TRUJILLO, Visit a local winery
On your trip to Trujillo, take the opportunity to visit one of the most outstanding and advanced top-quality wineries in Europe where you will be able to taste delicious and lush wines from our land in Extremadura. With a reservation and when available.
TRUJILLO, Horse trips
Montar a lomos de excelentes y dóciles caballos hispano-árabes te hará disfrutar de esta ciudad monumental, cuna de conquistadores y el paisaje más emblemático de Extremadura, su espectacular Dehesa, con bosques y pastos de encinas y alcornoques.
How to get
Plaza del Campillo, nº1 - 10200 - Trujillo - T (+34) 927 45 89 00 - trujillo.recepcion@izanhoteles.es
NÚMERO DE LICENCIA : H-CC631
{"CHILD":{"es":"Ni\u00f1o","en":"Child","fr":"Enfant"},"BABY":{"es":"Beb\u00e9","en":"Baby","fr":"B\u00e9b\u00e9"},"CHILDREN":{"es":"Ni\u00f1os","en":"Children","fr":"Enfants"},"BABIES":{"es":"Beb\u00e9s","en":"Babies","fr":"B\u00e9b\u00e9s"},"ROOM":{"es":"Habitaci\u00f3n","en":"Room","fr":"Chambre"},"ROOMS":{"es":"Habitaciones","en":"Rooms","fr":"Chambres"},"YEAR":{"es":"A\u00f1o","en":"Year","fr":"Ann\u00e9e"},"YEARS":{"es":"A\u00f1os","en":"Years","fr":"Ann\u00e9es"},"ADULT":{"es":"Adulto","en":"Adult","fr":"Adulte"},"ADULTS":{"es":"Adultos","en":"Adults","fr":"Adultes"},"ALL_DESTINIES":{"es":"Todos los destinos","en":"All destinations","fr":"Toutes les destinations"},"SELECT_AN_HOTEL":{"es":"Selecciona un hotel","en":"Select a hotel","fr":"S\u00e9lectionnez un h\u00f4tel"},"NAME":{"es":"Nombre","en":"Name","fr":"Nom"},"SURNAME":{"es":"Apellidos","en":"Surname","fr":"Nom de familie"},"ADDRESS":{"es":"Direcci\u00f3n","en":"Address","fr":"Adresse"},"PHONE":{"es":"Telefono","en":"Phone","fr":"T\u00e9l\u00e9phone"},"COMMENTS":{"es":"Comentarios","en":"Comments","fr":"Commentaires"},"POSTALCODE":{"es":"C\u00f3digo postal","en":"Postcode","fr":"Code postal"},"entrada":{"es":"Entrada","en":"Check-in","fr":"Date d'arriv\u00e9e"},"salida":{"es":"Salida","en":"Check-out","fr":"Date de d\u00e9part"}}